---
There are currently 536 Guests and 114 Members online NOW!
---
Need help getting Logged In?
---
MOREHEAD CITY – The N.C. Division of Marine Fisheries has added a public comment period to the agenda for tomorrow's meeting of the Joint Law Enforcement Agreement Advisory Group. The meeting begins at 5 p.m. at the Craven County Agricultural Center, 300 Industrial Drive, New Bern.

Public comment will be accepted at the end of the meeting. A meeting agenda is attached.

Members of the public may also comment in writing as to whether the state should enter into a joint law enforcement agreement with the federal government. Written comments may be sent to Marine Patrol Capt. Steve Anthony at Steve.Anthony@ncdenr.gov or at P.O. Box 769, Morehead City, N.C. 28557. Comments must be received by the division by 5 p.m. July 1 to be considered as part of the study.

The division is conducting a 12-month study to determine the possible impacts, costs and benefits of a joint law enforcement agreement with the National Marine Fisheries Service, and whether the N.C. General Assembly should authorize the division to enter into an agreement. The division is required, by law, to submit findings of a study on this topic to the General Assembly by Oct. 15. Consultation with an advisory group is part of this process.

In a joint enforcement agreement, the N.C. Marine Patrol would contract with the National Marine Fisheries Service Office of Law Enforcement to supplement and enhance federal fisheries law enforcement capabilities. The agreement would be accompanied by an enforcement plan in which both the state and federal agencies agree to a list of priorities and activities to be enforced by state officers. In return, the Marine Patrol would receive monetary compensation and training about federal regulations.

A joint enforcement agreement also would allow Marine Patrol officers to charge fishermen with minor federal offenses, and adjudicate those charges through state district court.
Read More
---
---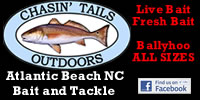 ---
---
---
---
---
---
---
---
BNIB Simrad RS12 for sale
Last post by AboutTime2Fish
May 31, 2016 at 22:29:13
For Sale Ocean Kayak Trident 13 Fishing Kayak
Last post by sistm
May 31, 2016 at 21:54:28
Couple of combos
Last post by btsharky
May 31, 2016 at 17:40:49
SCOUT 17 ft FOR SALE
Last post by Impulsive
May 31, 2016 at 10:02:49
2013 191 Bayscout
Last post by flyinguppy
May 31, 2016 at 08:49:47
Folding Stock
Last post by ncsouthpaw
May 30, 2016 at 22:44:59
Dinghy for sale
Last post by BCHNUT
May 30, 2016 at 10:49:25
Cedar point beach retreat
Last post by Thereeldbone
May 29, 2016 at 22:55:11
---
---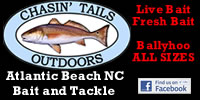 ---
What does THIS have to do with fishing?


---